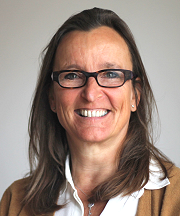 Dr Veronique Bataille is a Dermatology consultant based in London who has private dermatology clinics at Princess Grace Hospital, W1, Kensington Medical Chambers, SW5 and also Harpenden in Hertfordshire. She also practices in the NHS at the West Herts NHS Trust in Hertfordshire.
Dr Bataille has been practising in dermatology in London since 1989 after training in many teaching hospitals in London. She is working in the NHS with an interest in melanoma and has been involved in many research projects over the last 20 years looking at the genetics of skin cancers and many other skin diseases.
Dr Bataille sees patients of all ages including children with a wide variety of skin conditions and speaks French and English.
Dr Bataille is recognised by all UK and international health insurances and carries out many minor procedures including excision of skin lesions, shave biopsy, punch biopsy, curettage, cauterisation alone, freezing with liquid nitrogen as well as Botox injections for axillary sweating.
---
View Patient Feedback at:

https://www.themedicalchambers.com/find-a-clinician/dr-veronique-bataille
---